Harrison Drury solicitors has been named as Legal Company of the Year and John Chesworth, executive chairman at Harrison Drury, scooped the coveted title of Business Personality of the Year at the county's esteemed Lancashire Business Awards 2018.
John was given the title after more than 10 years at the helm of the firm, a period in which it has achieved significant growth.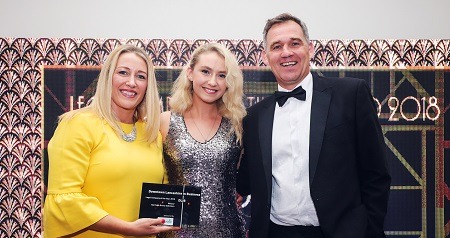 It now employs 120 staff across five North West offices and has been named in the Sunday Times' 100 Best Small Companies to Work For list for three years running.
On top of his business achievements, John has also played a pivotal role on the board of The Winckley Square Community Interest Company (WSCIC) which has overseen a £1.2m restoration of Preston's historic Georgian square.
His other roles include chair elect of St Catherine's Hospice Board of Trustees, as well as serving on the committees of Preston Business Improvement District, Lancashire Forum for the Built Environment and Preston Grasshoppers Rugby Football Club.
John said: "Winning this award was a huge surprise and I'm very humbled by it. I've always said that our achievements as a firm are the sum of everyone who works here. It's their hard work and dedication that has made this possible.
"We've made great strides as a firm over a number of years and it's been about creating a great place to work, where people feel valued and giving everyone the opportunity to go out and do things that benefit the community."
The Lancashire Business Awards are organised by Downtown in Business and celebrate the achievements of businesses across the county.  This year's awards were held at Stanley House Hotel on Thursday 21st June.
John Chesworth took over as executive chairman of Harrison Drury in 2017 after appointing Gavin Wright as the firm's new CEO.